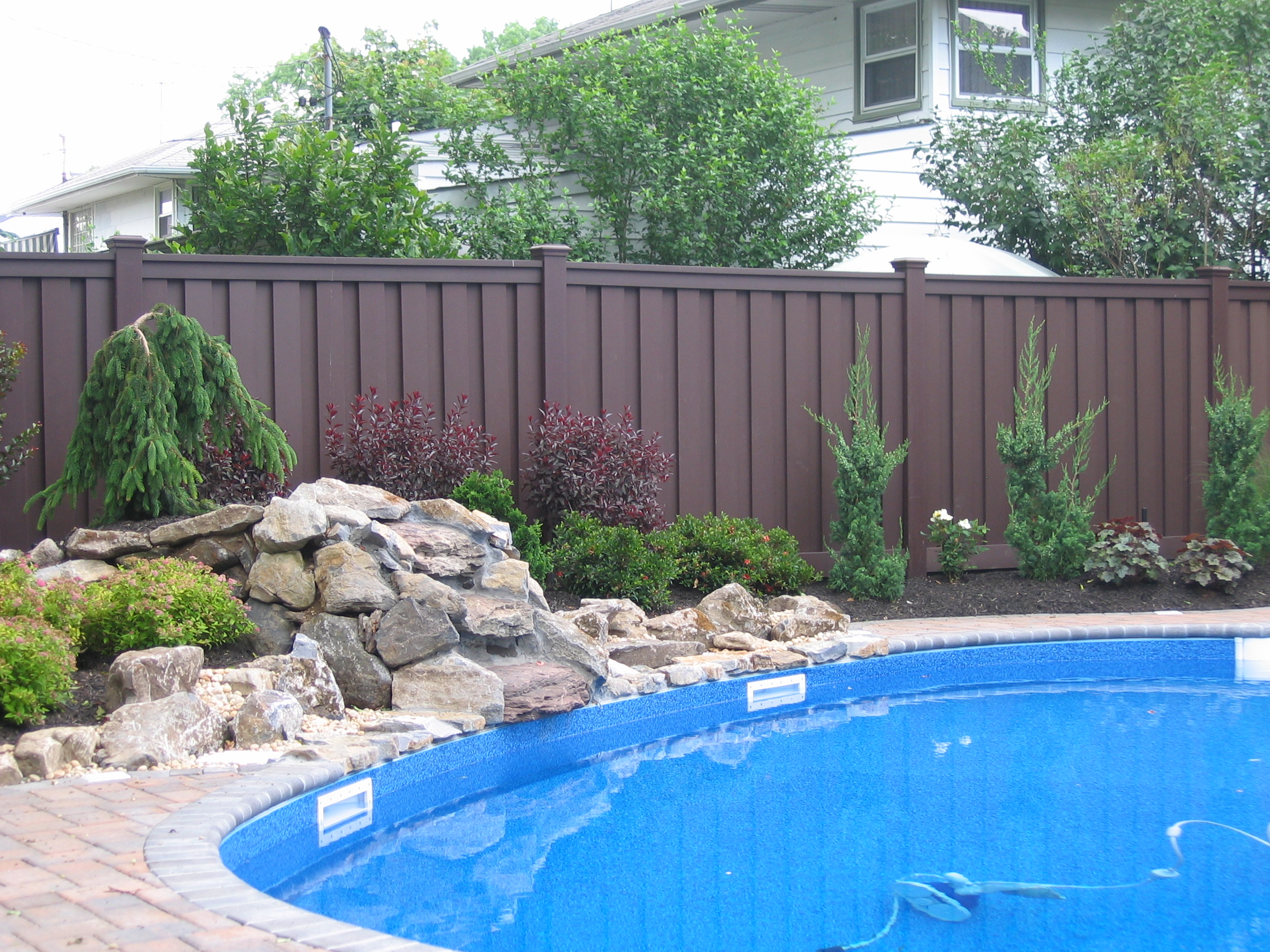 Trex Fencing provides all of the beauty and natural finish of wood without any of the hassle. It is the ideal choice for residential and commercial properties that value low-maintenance beauty and durability.
2 Unique Styles:Trex Fencing comes in 2 styles - Seclusions and Horizons. Trex Seclusions was modeled after a traditional board-on-board design that is found in many premium wood fencing designs. Trex Horizons uses the same overlapping style but is a horizontal fence that provides a more contemporary appeal.
What Makes Trex Different From Wood Or Vinyl?
Trex Fence material is made up of a blend of wood and plastic. This carefully formulated mix is stronger than either material on its own and retains all of the best qualities of each without any of the drawbacks. Trex inherits durability, beauty, and resilience from wood, and longevity and ease of care from plastic. In the end you have the best composite lumber fencing material on the market today.
Low-Maintenance and Beautiful: Your fence will never need painting or staining. It won't rot and resists insect damage as well. The unique design of the interlocking pickets creates full privacy and beauty from every angle that won't diminish with time. Trex Fencing has a matte finish with 3 natural earth-tone colors: Saddle, Winchester Grey, & Woodland Brown.
Resilient, Durable, & Secure: Trex Fencing is able to withstand hurricane force winds and is backed by a 25-year warranty. The interlocking-picket design distributes pressure evenly across the fence line making each section incredibly strong. Trex Fencing will not warp or twist ensuring that your privacy fence remains 100% private & secure.
Trex Is a Green Product: No trees were harmed in the making of this product. Not only that, Trex is one of the largest plastic recyclers in the world. Trex Fencing is made up of up to 97% recycled materials and is committed to reducing wasted materials that would otherwise end up in landfills. Since 1996 Trex has proven that not only are green products viable, but they also outperform the competition.
Free Estimates - M-F 7:30am - 5:00pm
SERVICE AREAS INCLUDE:
NORTH CAROLINA:
Dallas, Belmont, Bessemer City, Charlotte, Cherryville, Concord, Conover, Cornelius, Cramerton, Davidson, Denver, Gastonia, Grover, Hickory, Huntersville, Indian Trail, Iron Station, Kings Mountain, Lincolnton, Lowell, Maiden, Matthews, Mc Adenville, Monroe, Mooresville, Mount Holly, Newton, Pineville, Shelby, Sherrills Ford, Stanley, Vale, Waxhaw
GASTON COUNTY, LINCOLN COUNTY, MECKLENBURG COUNTY, CLEVELAND COUNTY, CATAWBA COUNTY, IREDELL COUNTY, BURKE COUNTY, CABARRUS COUNTY, MCDOWELL COUNTY, ROWAN COUNTY, RUTHERFORD COUNTY
SOUTH CAROLINA:
Clover, Blacksburg, Fort Mill, York, Rock Hill, Gaffney
YORK COUNTY, CHESTER COUNTY, SPARTANBURG COUNTY, UNION COUNTY